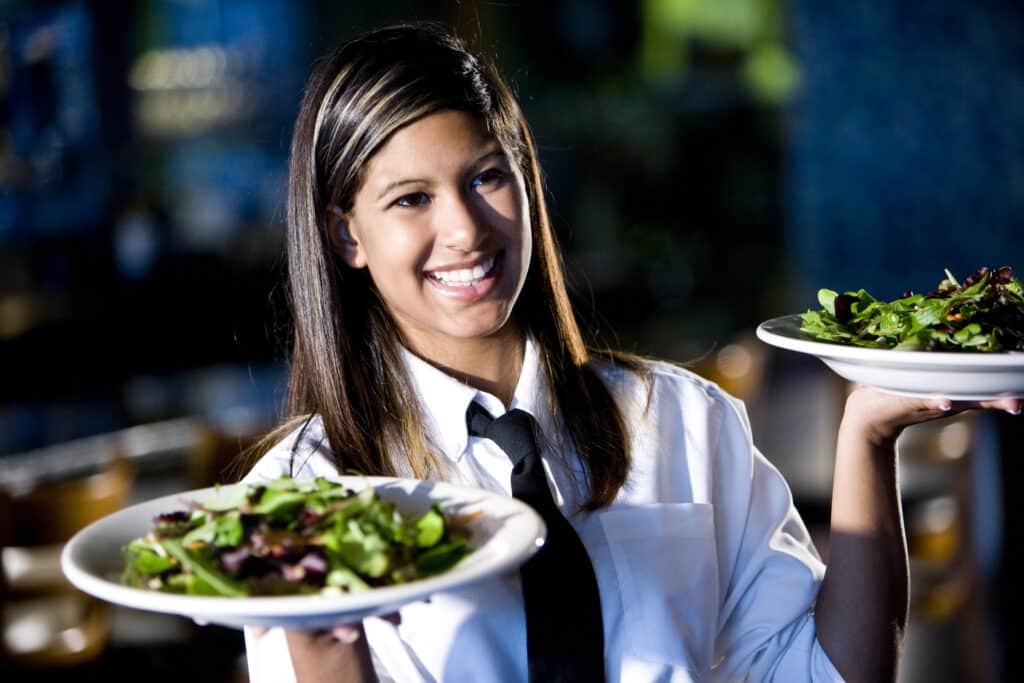 Overcome hospitality staff shortages without losing money
Australia has been suffering from a lack of hospitality workers since last year's lockdowns ended. The industry was one of the hardest hit by the pandemic and even though it is back in full swing, job applicant levels are at a two-year low.
This is partially thanks to immigration falling by 71% at the height of the pandemic (as shared by the Australian Bureau of Statistics). The crisis left many venues without staff, with SmartCompany reporting in April 2022 that a lot of businesses are only at 50-70% trading capacity.  
If you're a venue owner or manager, the one piece of good news is that the government expects 180,000 people to migrate to Australia in the coming financial year and for those numbers to keep rising. This will include the students and working holidaymakers who are the lifeblood of the hospitality industry. 
In the meantime, the only thing to do is take decisive action and find ways to work around the current shortages. With a little bit of creative thinking and the backing of the latest technology, there are solutions to maintain service levels without taking a hit to customer satisfaction or your bottom line.
How to fight hospitality staff shortages
1. Be flexible
To start with, you need to be flexible with the staff you choose to hire. While hiring a worker with previous experience is always preferable, you might have to be open to hiring newbies and training them on the job.

Of course, new staff won't be as knowledgeable about the ins and outs of hospitality, so you will have to guide them and be patient while they learn. But there are ways to streamline this process.
As much as possible, spend time creating and printing out instructions so your staff don't have to ask what to do constantly. You could also consider filming yourself completing regular tasks like setting tables ahead of an event and uploading the clips to a central location like an intranet or private YouTube channel. A quick smartphone video is fine and it doesn't have to be great quality, so long as the steps are clear. 
Have the videos accessible on an ipad and your newcomers can learn without you standing over them. 
It's not always ideal to have to train new staff but if you take advantage of technology and implement clear systems for them to follow you'll find they can hit the ground running sooner. 
2. Partner with local universities and TAFEs
Many Aussie TAFE campuses offer hospitality management programs that are an important resource in today's competitive world. It makes sense to reach out and start building a relationship so you can recruit the latest graduates.

When you bring in a TAFE student, you will know they have already learned about food safety, sanitation, menu planning, customer service, and other aspects of running a restaurant. They may be new, but they aren't entirely green.
TAFE and university campuses are also reliable sources of young people seeking casual work. It doesn't hurt to connect with local campuses to see if work opportunities can be directly shared with students. 
3. Think outside the box
While students and young people are often seen as the heart of the hospitality industry, they are not the only demographic you can tap for staff. Don't be afraid to look outside the usual cast of 20-somethings to help fight hospitality staff shortages.

Many older Australians, especially women, desperately need casual employment. Asylum seekers are often in need of help establishing themselves in the country. Hire outside the norms and look for 'soft skills' like quick-thinking and determination rather than prior industry experience.
4. Clarify your brand
A compelling brand narrative appeals to staff as well as patrons.

People want to work for a place that reflects their values so if you put some work into establishing yourself as a venue with a vision, you will attract applicants who align with your way of thinking. 
Even a smaller venue can have a strong brand that establishes an identity and helps develop a great working culture. 
Don't be afraid to have some fun with your 'help wanted' ads. TikTok your way into people's hearts with some unconventional video clips and you'll stand out. 
5. Pay above award wages
Of course, there isn't any better incentive than money. Offer above award wages and you will instantly attract attention.

With that being said, you need to find a way to offset higher wages so you're not losing out on profits, so… 
6. Use a smart ordering app like Chewzie
Modern technology is doing a great deal to take the struggle out of hospitality staff shortages.
A recent introduction to the Australian market, Chewzie sends orders direct from customer to kitchen, collecting payments on the way. 
The main benefit of this app is that it reflects current consumer demand. As shared by Deloitte:
 "Demand for frictionless digital experiences continues to be at the top of the menu. Nearly two-thirds (67%) of on-premise diners prefer to order their food digitally." 
Chewzie provides digital ordering capability for on-premise diners. This easy-to-implement, simple-to-use app: 
Frees up floor staff so they don't need to take orders

Delivers a positive and simple customer experience; no more waiting for someone to show up at their table

Eliminates the need for queues of people ordering at the counter

Reduces ordering mistakes to almost zero

Gives your staff flexibility to focus on other things 

Allows for bill splitting (several customers can place an order from the same table at one time)

Can customise orders outside of what's on the menu

Automatically offers deals and promos 

Is set up to collect tips

Makes it easy for customers to order another round, add side dishes or request dessert (so you make more sales)

Lets you cut your team by a headcount or two (or more), so you can save money and sidestep the hospitality staff shortage
You don't have to do away with table service entirely but with Chewzie you will have happier customers and staff who are less overwhelmed. 
Here's what current users have to say:
"We've been using Chewzie at our restaurant now for almost a month and it's been a great addition for us. 
I thought it would take longer and be more difficult for us to use effectively but I was happily wrong. It really took some of the strain off the floor staff during a busy school holidays and definitely boosted our sales. 
Neira was excellent at getting us launched and very responsive to any issues or questions that arose during the initial few weeks." – Phil, Eagle Bay Brewing
This solution works for every customer who has a smartphone. A simple QR code takes them to your venue's menu, where they can select what they want, place their order and pay via credit card or PayPal, without leaving their seat.