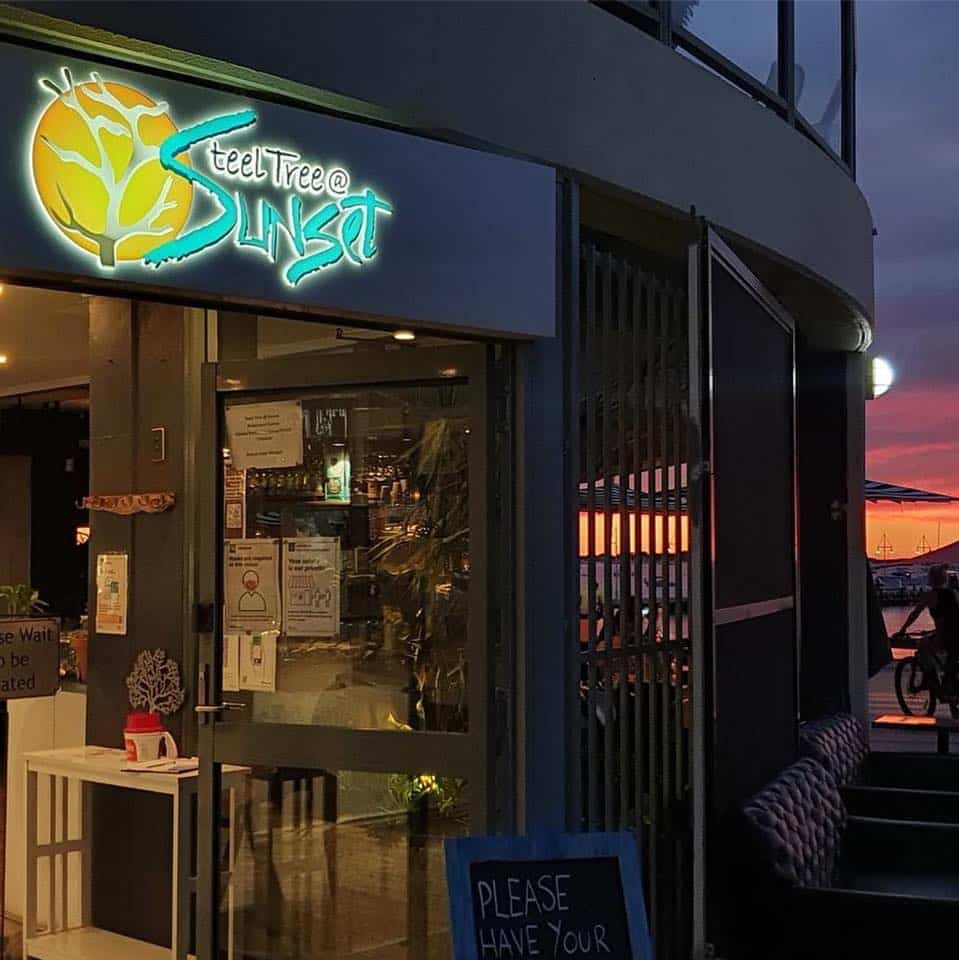 Case Study: Chewzie + Steel Tree @ Sunset, Rockingham WA
The Western Australian town of Rockingham overlooks the Indian Ocean and has Insta-worthy sunsets almost every afternoon. Located south of Perth, it is a hotspot for summer holiday-makers. 
The owners of Steel Tree @ Sunset purchased their casual dining venue right when COVID hit but WA was fortunate enough to avoid the strict lockdowns put in place in other parts of Australia. This meant that while nobody was allowed in or out of the state for several months, there was plenty of freedom to dine out. 
Steel Tree @ Sunset is a popular favourite with locals and visitors because of its 'Weeknight Wonders' menu, creative cocktails (drop by to sample their Lamington martini), delicious seafood and unbeatable ocean views. The recent summer rush period helped to replenish the slower periods in 2021 but staff were run off their feet and finding it difficult to keep up with orders. 
"Over summertime, we are pumping," explains venue manager Tina Reid. "You can't have enough staff. Last summer, we really needed help so diners weren't waiting too long for someone to come and serve them." 
Fortunately, the right person showed up at the right time, with a sales representative introducing Tina and the team at Steel Tree @ Sunset to Chewzie. This simple, straightforward QR table ordering system made sense because it "was cost-effective and easy to get up and running so our team could ease the stress of trying to get around to every table at peak time." 
Why choose Chewzie? 
Tina explains that customers find this QR table ordering system easy to use. 
"Younger customers 'get it' and the kitchen finds it quite manageable as well. Most people are quite tech-savvy and having Chewzie as part of our venue doesn't mean we can't still cater to the diners who want to order from a person."
"The support team at Chewzie has been great," Tina adds, "Steve who set us up has been easy to deal with and if I have any problems I know I can always contact the Chewzie support crew."
Beat the stress of busy periods with a QR table ordering system
Rockingham can be a seasonal destination so in the cooler months it's ok for the table app to 'hibernate' on some days when staff are in less of a rush. "In the summertime, having Chewzie is perfect because it's such a big help," Tina says. 
Using the app saves Steel Tree @ Sunset the stress of trying to hire extra people for the busy summer periods, train them in time for the rush and then deal with a surplus of hungry diners. It's the perfect solution for the venue, which has been impacted by staff shortages like many others in Australia. 
Tina is happy to give Chewzie the thumbs up and has recommended it to other Rockingham venues that see peak crowds during the summer months.
Provide a better customer experience and give your busy staff a break with simple, straightforward table-ordering technology. Chewzie is cost-effective and so easy to use.